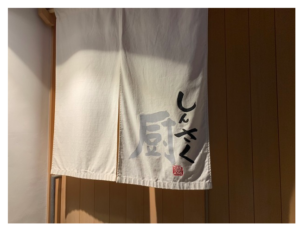 In Kanazawa, there is a lot of good food like sushi, assorted seafood rice bowl, Kanazawa curry, Kanazawa Oden. Now, Kuriya Shinsaku, located in Kiguramachi street, Kanazawa-shi, Ishikawa has been gathering attention.
In the restaurant, an owner who had worked actively in ryotei, high class restaurant serving mainly Japanese cuisine, and ryokan, a traditional Japanese inn, welcomes customers with hospitality and serves awesome food cooked with the best ingredients.
He is as famous as he has been featured in a national newspaper.
You can enjoy the highest quality dishes and supreme moment in a relaxing atmosphere.
I love eating out, but I believe this restaurant is the best for the Japanese cuisine in Kanazawa.
In this article, I'll feature Kuriya Shinsaku, kappo which is I can say "fantastic" from the bottom of my heart.
As I'm going to introduce some dishes which I tasted when I visited there, you should remember this kappo if you really want to eat a good food in Kanazawa, or look for restaurant with a relaxing atmosphere.
It's worth keeping this place in your mind, or I should say this is the place you should definitely remember.
Location of Kuriya Shinsaku
Kuriya Shinsaku is located in Kiguramachi, Kanazawa-shi, 10 minutes away from Kanazawa station by taxi.
It is within a walking distance from a central area like Korinbo and Katamachi.
Among many quality restaurants in Kiguramachi, Shinsaku is outstanding in its chic and modern appearance.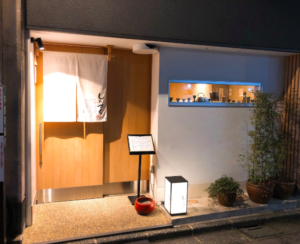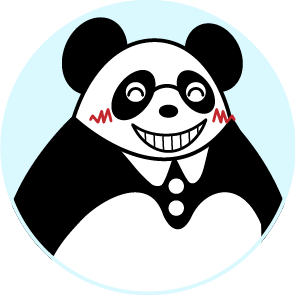 The restaurant has a good appearance!
        They must serve good meals!
(Manager Panda is a hair stylist who loves eating out.
)
The reason why I dropped by the restaurant is that I've also felt something outstanding in its appearance when I passed by. (Laughter)
When I noticed, I have already gone through a curtain and opened the door of the restaurant. (Laughter)
It has an awesome appearance.
Relaxing atmosphere to enjoy dining.
| Relaxing atmosphere to enjoy dining.
I've noticed good atmosphere once I stepped into the restaurant.
It is created by chic interior, BGM, hospitality of an owner and his staff, and it also relieves our stress.
I guess the appearance of the restaurant attracted me because of its atmosphere.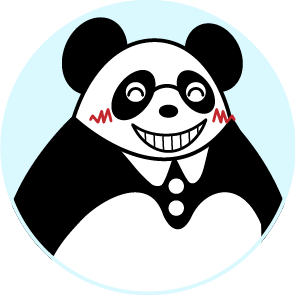 By the way, someone may think "I feel like kappo is too exclusive for me to casually drop in," but don't worry.
You don't need to get nervous. You can enjoy good meals and drinks in a relaxing atmosphere.
Shinsaku is a perfect place to me because I prefer relaxing ambience to noisy izakaya.
It is a high-end izakaya, Japanese pub, so to speak.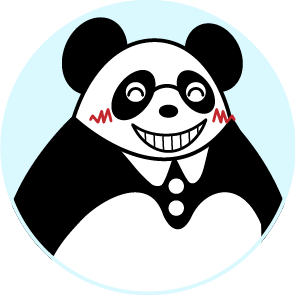 Such ambience sounds good when we go for the first time!
In Shinsaku, there are nine seats at a counter and two private rooms with a capacity of four and six.
A counter seat is good to enjoy talking to a restaurant owner and private rooms to eat good food in a relaxed atmosphere.
Expats who like Japanese cuisine, not to mention locals and Japanese tourists from other areas, also must love this restaurant.
As I haven't been there with my wife yet, we'll be visiting there soon.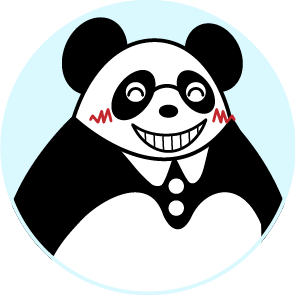 You won't regret no matter what you order!
All dishes are so good in Shinsaku!
They carefully cook ingredients in season to bring out of its full flavor and present them in nice plates.
This restaurant is super good to say the least.
As I mentioned earlier, an owner, Mr. Masatoshi Sonoda, used to be a chef in ryotei and ryokan in Kyoto, Osaka, and Shizuoka.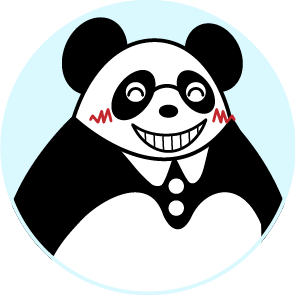 Then, everything must taste good!
He has returned to his hometown Kanazawa in 2016 and opened Shinsaku with her wife.
I really want to say "Thank you for coming back to Kanazawa."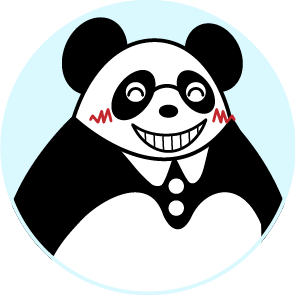 The restaurant is so good to go and make you feel like that, isn't it? (laughter)
Now let me introduce some dishes I tasted when I visited there the other day.
Food report at Kuriya Shinsaku
Let's get inside.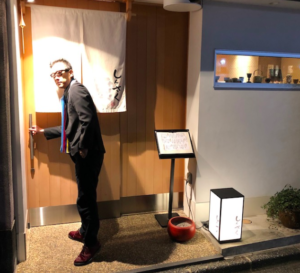 As three of us came to the restaurant, they took us to a private room instead of a counter.
A menu is placed on the table like this.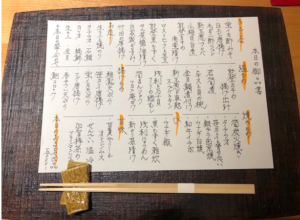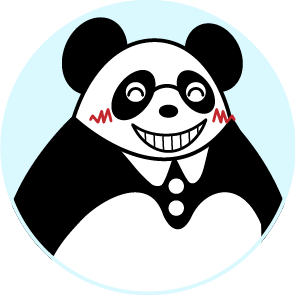 As their menu changes each day and season, it's also exciting to check a menu.
They serve the full course menu but this time I ordered from single dishes which I prefer.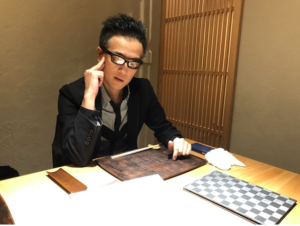 (I'm scrutinizing menu.)
I scrutinized menu and I placed an order once I got an idea of what to eat tonight.
First, I ordered this: Senna marinated with soy sauce.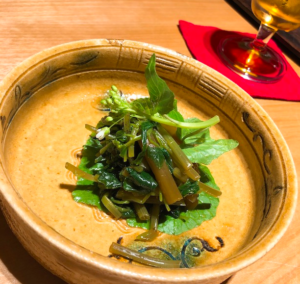 Senna is wasabi leaves.
Sennna marinated with soy sauce and broth made from Japanese ingredients is really good!
I love mild spiciness of wasabi which comes afterwards. It makes me want to drink beer.
By the way, I prefer my beer with less foam.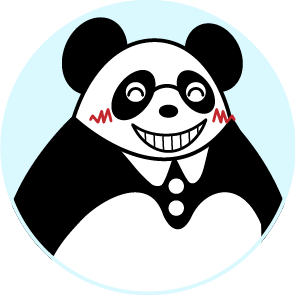 Manager Panda: His tension goes up when he sees draft beer with less foam.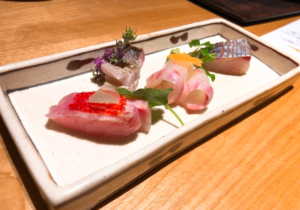 Here comes assorted sashimi. Four kinds of fish: horse mackerel, red sea bream, grilled barracuda, and alfonsino.
You don't need me to explain fresh fatty sashimi, do you?
It must be excellent.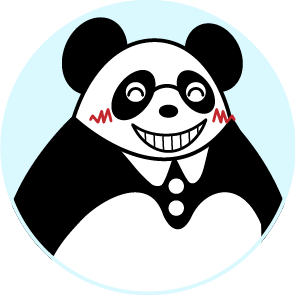 Manager Panda: Fish in Hokuriku is fabulous!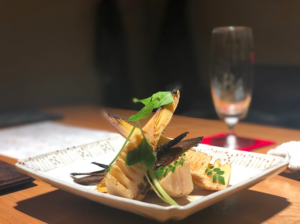 This is bamboo shoot grilled thoroughly over the charcoal: one of the local vegetables and traditional ingredients in Kanazawa.
I can't resist it. I really love bamboo shoot.
Soft and floury texture and sweet flavor spreads throughout my mouth. I cannot believe this is bamboo shoot.
It's simply cooked with salt but so tasty. It proves an owner can figure out good ingredients.
I also love their fantastic plating!
Now I order Sake.
As I love sake, a variety of Sake Mr. Sonoda has carefully selected is also appealing to me.
I always drink only one glass because I have a low tolerance. (Laughter)
If we order sake, we can choose a sake cup among their collections.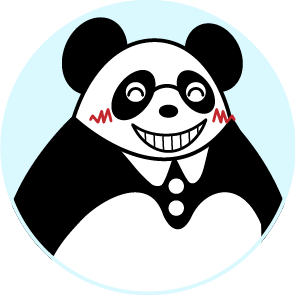 Manager Panda: Sounds good to those who love sake!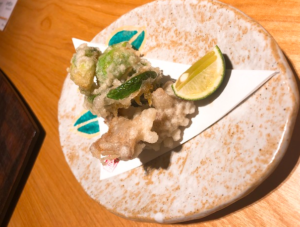 Firefly squid and tempura of spring vegetables.
That must be good with sake. (Laughter)
Taste flavor of firefly squid and drink sake.
Taste sweetness of spring vegetables and drink sake again.
Man, tempura was so yummy.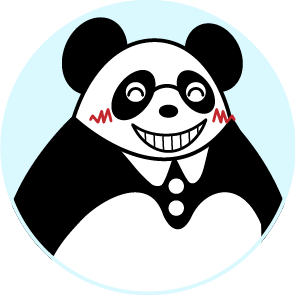 Manager Panda: Hum, I'm sure I'm going to get drunk.
I'm getting drunk a bit after drinking sake in a relaxing atmosphere. Now let's order rice dishes.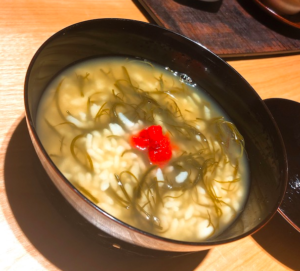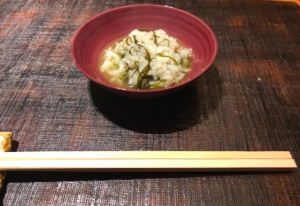 I ordered this: porridge with black Mozuku seaweed.
Its mild broth is really good after drinking.
Nothing can beat the combination of the ocean smell in black Mozuku seaweed and refreshing pickled plum.
I want to eat this after drinking every night. (Laughter)
I'm getting full but I've got to have some sweets to finish off the meal.
Sweets are also good in this restaurant.
I couldn't pick only one and I ended up with ordering two.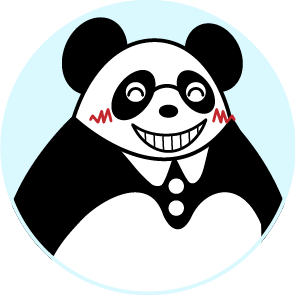 Manager Panda: There is always room for dessert!
Here is the first one I ordered: hot Zenzai, rice dumpling with sweetened red beans.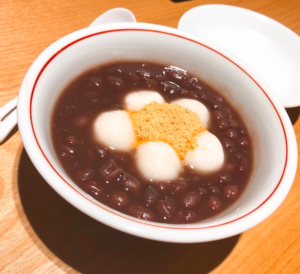 As it is not too sweet, I can keep eating even though I'm stuffed.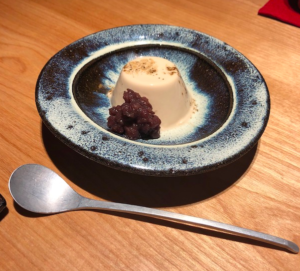 Chewy rice dumpling ball and roasted soybean flour is also good combination.
The other one: Blancmange made from Kaga-bocha, roasted Japanese twig tea.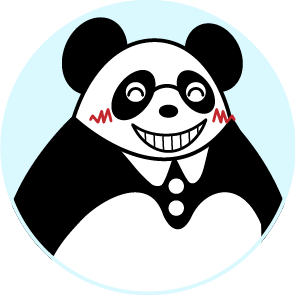 Blancmange is a cold sweet dessert. It is commonly made with milk, sugar, liquor, fresh cream, vanilla, etc. and thickened with gelatin. It looks similar to Bavarian cream and Italy's panna cotta, but ingredients and recipe is a little different, said Wikipedia. (Laughter)
I took one bite; it has a slippery texture and a flavor of Kaga-bocha spreading throughout my mouth is just fantastic.
I was wondering if I could finish two kinds of sweets but I finished them right away.
There is no limit on eating good food.
There are more amazing dishes but I'll introduce them next time – I love unseasoned grilled eel but it was already sold out.
Thank you for an excellent meal!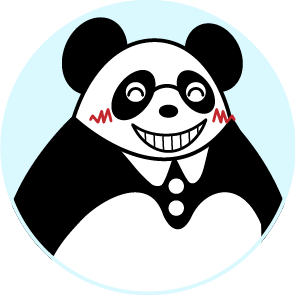 Boy, it makes me feel hungry. (Laughter)
Shinsaku is a very affordable restaurant.
Readers of this article may think Shinsaku sounds like a fancy restaurant.
Don't worry.
They serve the full course menu with fixed price starting at 8,000 yen, but a price range of single dishes is also affordable.
If customers consider an ambience and a quality of food, I'm sure they feel it's reasonable.
Tabelog, a major restaurant-review website says a budget per person is between 5,000 and 15,000 yen.
There are many other restaurants in Kanazawa with a price range of two times higher when we want to eat as good food as in Shinsaku.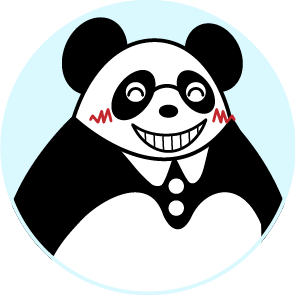 Once we go there, we definitely will be regular customers.
Reviews of customers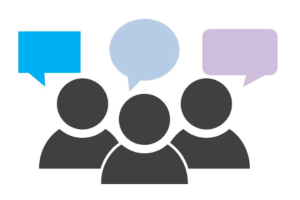 I'm sure many are wondering how reviews of their customers are.
I also check Tabelog when I go to restaurant for the first time. (Laughter)
Let's check some comments on Shinsaku.
This is the third time to come here.
I can distinguish a quality of food when I taste a compulsory appetizer.
I always want to choose a restaurant like this.

As I didn't take pictures, I don't remember well but I ordered assorted sashimi (four kinds: tuna, red grouper, barracuda, and squid) and Japanese omelet, and two kinds of sake after beer. I'm very satisfied with its taste and ambience.
Cited from https://tabelog.com/ishikawa/
When I was walking in Kiguramachi, I noticed a small window on a white building and I was curious about the restaurant.

They serve the ten-dish full course menu for 8,000 yen (a reservation by a previous day is required), four dish full course menu for 5,000 yen (a reservation is not required), and single dishes.

I ordered the full course menu this time.

I was amazed with their soup. I forgot its name but shell, a little bigger than clam was there.

Then, main dishes of meat and fish.
Both meat and fish assorted in one plate looked so fresh and I didn't know where to start. It was fun to me.

Ambience of inside the restaurant was also good. It was fortunate to find a good restaurant.
I'll go there again.
Thank you for a nice meal.
Cited from https://tabelog.com/ishikawa/
I recommend lotus manju (grounded and steamd lotus) and Crub rice.
Sashimi is a must-order dish!

As I took a counter seat, they considered my pace to eat and served food. I'm satisfied with it.

I ordered Tedorigawa and Dassai brand sake, one-hundred and eighty milliliter each.

They have a variety of sake cup from all over Japan. As I like one, I enjoyed their collection.

They use Futamat Japanese paper for an interior and a flower decoration was also good.

Aside from counter seats, there are two private rooms with a capacity of four and six persons. We can use the restaurant for dining on business.

Cited form https://tabelog.com/ishikawa/
You can see only good reviews!
I didn't feature only good ones on purpose. (Laughter)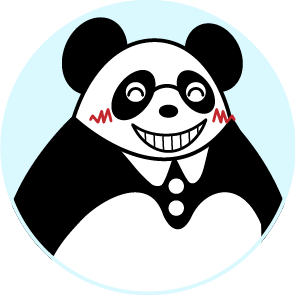 It makes me want to go to the restaurant!
Well, I decided to go this weekend!!
There are many comments and pictures of dishes like these in the page of Shinsaku of Tabelog.
Please check the following link.
Information of Kuriya Shinsaku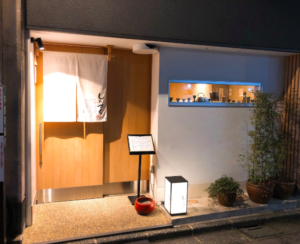 In conclusion, here is the restaurant information again.
Kuriya Shinsaku
| | |
| --- | --- |
| Address | 2-7, Kikuramachi, Kanazawa-shi, Ishikawa |
| TEL | 076-260-4026 |
| Opening hours | 18:00〜23:00 |
| Closed | Wednesdays |
| Parking | None (there is a paid parking nearby). |
| Seats | 9 at the counter, two private rooms with a capacity of four and six. |
| Official Facebook page | Kuriya Shinsaku Official Facebook |
I repeat that I think this restaurant is the best among Kappo in Kanazawa in its taste and ambience.
It is an excellent restaurant with chic interior, relaxing ambience, fancy plates, great hospitality of an owner, and awesome food which chef make the most of with his good taste.
I recommend Shinsaku.
Absolutely you should go there!
As this restaurant is very popular, I recommend you to make a reservation.
Lastly, thank you, Mr. Sonoda and all other staff of Shinsaku for allowing us to introduce you in this blog.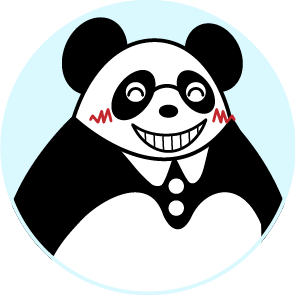 That's it for "A must-visit restaurant! Kuriya Shinsaku, kappo in Kanazawa where you can enjoy fantastic Japanese cuisine and ambience is the one I recommend."